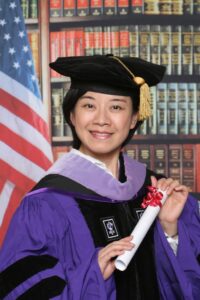 Dr.  Zeng earned her Doctorate of Dental Surgery degree at New York University.  She has worked in the dental field in China, Canada and the United States of America for 25 years.  During her years in the dental career, she continually updates her knowledge to sharpen her clinical skills, improve the quality of her work, and give patients the best possible care.
Dr. Zeng has received much of her post-graduate training at the prestigious and international renowned Las Vegas Institute for Advanced Dental Studies., for advanced training as a cosmetic and neuromuscular dentist and achieved LVI fellowship status.  Additionally, Dr. Zeng is a member of the Academy of General Dentistry and the International Association of Physiologic Aesthetics (IAPA).
In her spare time, she enjoys outdoor activities such as gardening, fishing, and hiking.
Dr. Zeng is dedicated to patient comfort and quality of care, providing the best and latest in dental technology and treatment options in the fields of: Preventive and Restorative Dentistry, Cosmetic Dentistry, Neuromuscular Dentistry, TMD, Obstructive Sleep Apnea (OSA), Implant Dentistry, Full Mouth Reconstruction, Invisalign, and Endodontic treatment.